Vertical Telephone Systems
| | |
| --- | --- |
| Vertical VOIP Telephone Systems | |
---
---
Vertical SBX VOIP 320™:
Superior VOIP Features and Proven Reliability at an Affordable Price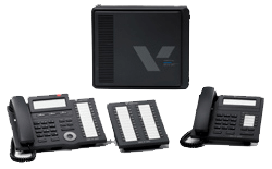 The Vertical SBX IP 320™ converged VOIP telephony system is the clear choice for today's dynamic and growing single- and multi-location businesses. Developed in partnership with global electronics and telecommunications manufacturer LG-Nortel, the Vertical SBX VOIP 320 addresses your current and future communications needs by combining advanced telephony features, communications applications, unmatched ease-of-use, high reliability, and traditional as well as VOIP telephony at an extraordinary price point. No other communications system can offer the same value to a growing business.
Scalable to up to 32 users per system and capable of networking up to 72 systems together, the Vertical SBX VOIP 320 offers the latest advances in converged IP telephony technology. Small businesses can easily benefit from the many advantages of its rich feature set, telephony applications, significant flexibility and cost-savings associated with Voice over Internet Protocol (VoIP). The SBX VOIP 320 supports both traditional and IP endpoints and trunking in a single system, so you can deploy VoIP immediately, or migrate at your own pace. Either way, the SBX VOIP 320 offers unmatched flexibility and value to meet the needs of your business.
Stay Competitive With Enterprise-Class Communications
The SBX VOIP 320 delivers the features and flexibility your organization needs to succeed in today's highly competitive marketplace. You'll be able to use the same powerful communications applications usually reserved for large enterprises in a system designed with your small-business budget in mind.
The New Standard for VOIP Value & Economy
Offering unsurpassed practicality, reliability and versatility, the SBX VOIP 320 is the benchmark for small business telephony. With advanced features, handset options and applications, the SBX VOIP 320 proves that small hardly means limited.
Easy to own
Easy to use
Easy to grow
Easy migration to VOIP
The SBX VOIP 320 from Vertical Communications is the proven, practical and powerful solution for companies that want to compete, grow and profit more effectively.
FIND OUT MORE!
Click here to view the VOIP SBX Brochure
Contact ComRes today to start saving money on your telecommunications!